Daniel Litwicki – Stage 4 metastatic melanoma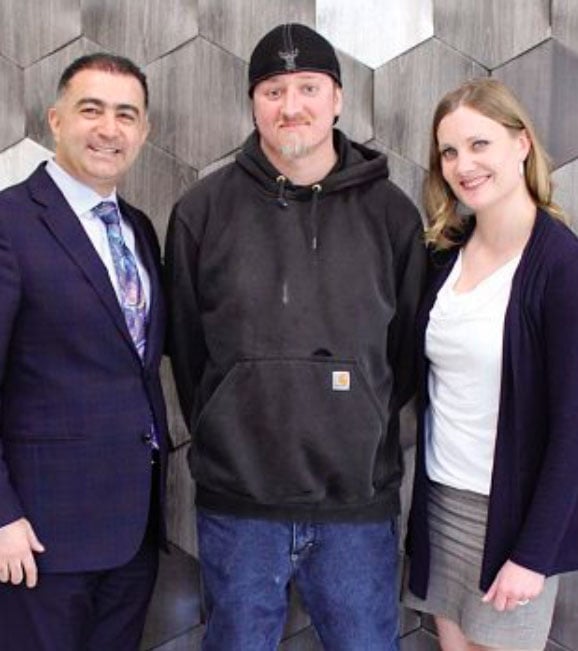 Thanks to Dr. Kassar, I'm alive right now and have years ahead of me, instead of living day by day," said Litwicki."I was scared when I got out of the hospital, worrying if I would go bad each day. Now I can lead a normal life and it's all thanks to Dr.Kassar.
When one hears the word cancer," some people envision a person in middle age or older. However, cancer is an equal-opportunity illness; it knows no boundaries when it comes to age, affecting babies, children, teens and young adults as well.
Daniel Litwicki of Schererville was just 24 when he was diagnosed with Stage 4 metastatic melanoma. He said his symptoms began in the summer of 2017 with numbness in his left leg and headaches. At first, the symptoms occurred once a week and lasted about five minutes, increased to three days a week and then every day for one hour. They had been occurring for about three months, and Litwicki admitted he didn't get them checked out right away. That September, he mentioned his symptoms to Tracy Noorlag, an addiction counsellor he was seeing, and she told him to visit primary care physician Dr.William Zato in St.John.
Dr. Zato sent Litwicki for an MRI, and he was referred to Dr. Mohamad Kassar in September 2017 after the MRI revealed that Litwicki had two golf ball-sized masses in his brain; one on the left side and one on the right.
"The MRI showed a cystic dominant lesion in the left brain and other significant metastatic lesions," said Dr.Kassar.
Dr. Zato alerted Litwicki to the results of the MRI and told him to go to the hospital immediately. He warned Litwicki not to wait,as the tumours could be causing brain damage.
Instead, Litwicki worked on Friday and went out with friends on Friday night. On Sunday, he seemed to feel better, but when he woke up Monday morning, he couldn't see.
"I felt very lightheaded and everything was wavy," he said.
Litwicki's father took him to the hospital on Monday, Oct. 2, where he had a PET scan, a CAT scan and other tests. The CAT scan showed masses in Litwicki's brain and spine, as well as tumours in his lung, lymph nodes and adrenal glands.
On Oct.6, Litwicki had his first brain surgery to remove one tumour and on the 14th, he had a second surgery to remove the other one. A biopsy confirmed that both were cancerous and were identified as being caused by melanoma cells.
Though Litwicki didn't have any manifestations of melanomas on his skin, he had worked in landscaping all through high school and a year after.
"The major cause of melanoma is sun exposure," said Dr. Kassar."Even though Daniel didn't have any indications on his skin, we were able to identify it when we biopsied the brain tumours because melanoma has very distinct characteristics."
Litwicki was in the hospital from Oct. through Dec. 22, 2017, mainly because he suffered a setback after having a reaction to the immunotherapy drug he was prescribed.
"Advances in medical technology have shown that melanoma doesn't respond to chemotherapy, so we took a more aggressive approach with an immunotherapy drug.
This drug activates the immune system to identify cancer and the body fights the melanoma cells, which because of their many mutations are foreign matter," explained Dr. Kassar."This is a new class of drugs that were first approved by the FDA for melanoma, and now are approved for kidney, lung, head and neck, gastric and esophageal cancers."
The test trial of a full dose of the immunotherapy drug put Litwicki in a coma for 41⁄2 days. While some doctors were skeptical of a positive prognosis, Dr. Kassar and Litwicki's parents never gave up. After Litwicki awoke from the coma, Dr.Kassar changed the drug's dosage, and Litwicki was able to tolerate it.
After his brain surgery, Litwicki was treated with radiation to his brain, spine and lymph nodes with the CyberKnife, a pinpointed type of radiation.
"The brain doesn't allow chemicals to penetrate, but unfortunately does allow cancer to do so. The CyberKnife provides radiation therapy that is targeted and pointed and takes only two to three days to administer," said Dr. Kassar.
Litwicki continues to receive an injection of his immunotherapy drug through a port every other week. Since he started on the drug in January 2018, he has had no symptoms and he said that everything is going very smoothly.
"If it weren't for Dr.Kassar, who knows if I'd be around now?" said Litwicki."I also am grateful for everyone at Northwest Oncology. I love everyone there: the nurses are super friendly. It's nice going there – not like just another doctor's appointment – and everyone makes me feel comfortable. The new facility is amazing, spacious and welcoming."
According to Dr. Kassar, Litwicki is now considered to be in remission.
"Dan has a better function and is 90 percent back to normal," said Dr. Kassar."He slowly went back to work and is a new man since he did so. He's enjoying a better quality of life and though he has minimal side effects, they are not disruptive."
Dr. Kassar pointed out that the treatment of cancer has evolved greatly in recent years, with multiple treatment options now available, especially gene therapy that works for the long term. He said that with immunotherapy and other types of treatments, more people are enjoying a good prognosis, with complete remission after a couple of years with continued therapy.
"Our goal is to transform cancer into a chronic disease that people can live with for a long time," Dr.Kassar explained.
Dr. Kassar said the overall keys to success are how the cancer is fought.
"Cancer care is a team effort, including a primary care physician, surgeon, oncologist and more who work together, and Dan's case represents that," said Dr. Kassar. "Also important is that Dan is a fighter. Northwest Oncology worked with the family to fight his cancer after everyone else had given up on him."
"Thanks to Dr. Kassar, I'm alive right now and have years ahead of me, instead of living day by day," said Litwicki."I was scared when I got out of the hospital, worrying if I would go bad each day. Now I can lead a normal life and it's all thanks to Dr.Kassar."
Northwest Oncology provides state-of-the-art cancer care by combining the latest in traditional medicines and progressive integrative medicine to help patients help their own bodies heal.