Gladys Truitt: A Second Opinion Made All the Difference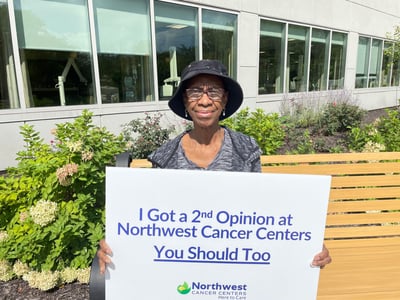 Faith has always been Gladys' inspiration through her journey. In addition to faith, she armed herself with knowledge on how to fight her illness, thanks to the help of Dr. Gowri Ramadas of Northwest Cancer Centers. She credits Dr. Ramadas & the NCC team for treating her the way a patient should be.
"I saw my PCP and was first referred to another provider for my cancer treatment. I felt like they were not going the extra mile to help the patient. I'm much happier here because I feel like I've been given more information about my condition," said Gladys. "I ended up coming to see Dr. Ramadas to get a second opinion and I am so glad I did. She explains things so well, answers all my questions, is very quick and thorough, and on top of that, she finds things I feel like another provider would miss. I would refer anybody to get a second opinion here. I just wish I switched here earlier because she is so on top of things and so caring. Many doctors you go to seem like they don't care, but she does."
Although she is happy to have found the right provider, the journey she's gone through has been difficult. Gladys explains, "I could hardly drink water, I lost about 50 pounds, and the radiation was very harsh. When I was having chemo here at the center it was not too bad, but sometimes it would be rough. Mostly when I did 3 days in a row."
Gladys faced breast cancer twice over two decades ago and was optimistic to be done with this disease. Unfortunately, after 20+ years the cancer came back and she is being closely monitored by Dr. Ramadas and the NCC team. "It's just crazy how it all worked out. I believe God had a plan for me. I'm happy to have faith, family, and Dr. Ramadas behind me every step of the way," said Gladys.
Note: Every patient's cancer and treatment is unique and results are not typical of every patient undergoing treatment.